Behemoth 2017 tour schedule
Find Behemoth concert next to you - see the list of the cities below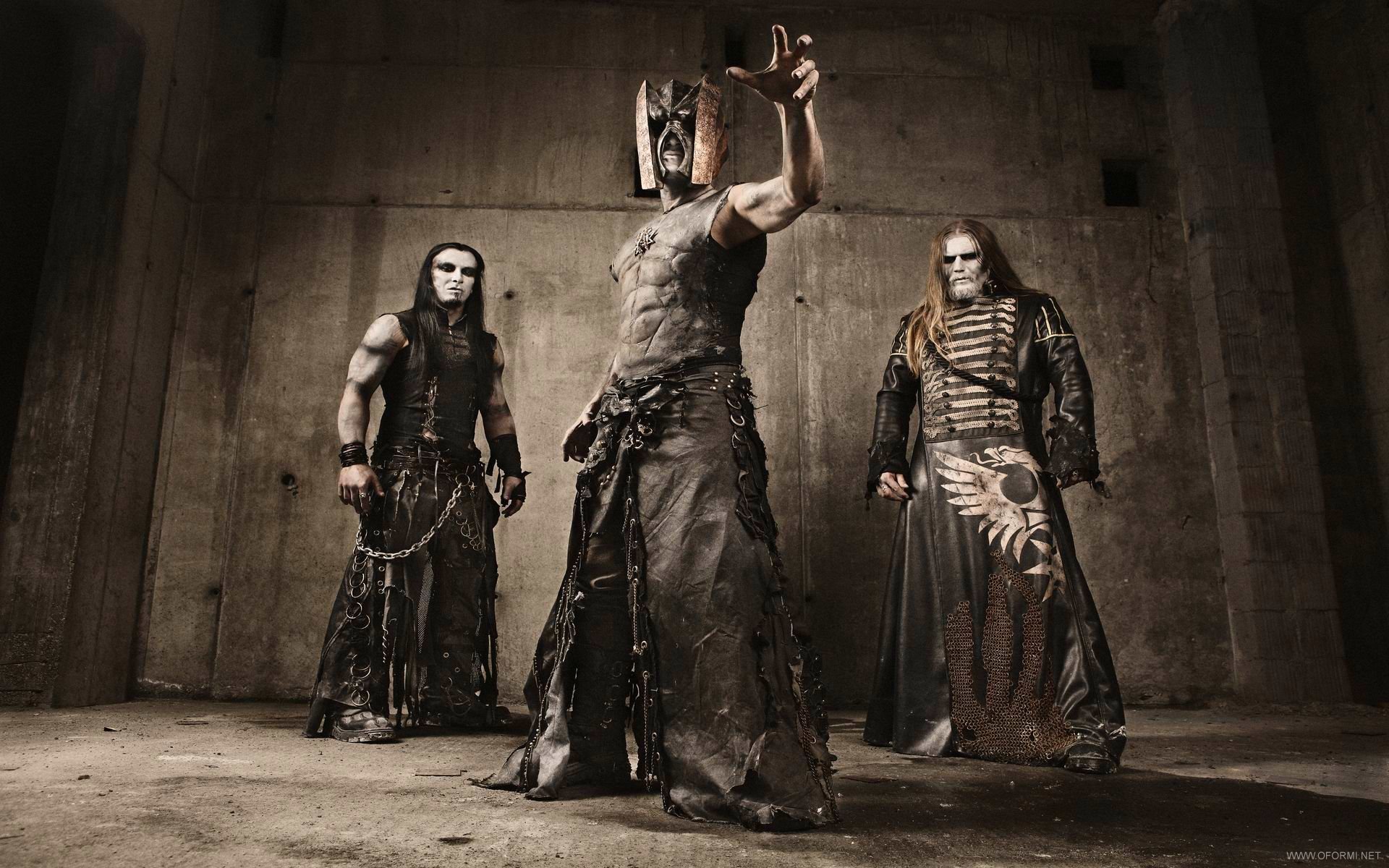 Your tickets will arrive before the event

200% money back guarantee

Need help? Call us 1-888-456-8499
Buy tickets for Behemoth 2017 Tour
21.04.2016 - 13.08.2017
Get Behemoth Tickets >>
Polish blackened death metal icons Behemoth are still riding on the wings of their critically acclaimed 2014 studio album "The Satanist," and have decided to play string of live concert dates across Europe and North America as the special guests for Slayer tour.
Praised by fans of extreme metal as one of the finest tour packages at the moment, the shows will see Behemoth sharing the stage with the mighty Slayer and Lamb Of God.
Co-joint
Slayer, Lamb Of God & Behemoth 2017 US tour
run will commence on July 12 in Bemidji, MN, and will continue across mid-August with notable stops in the US. Last year unstoppable Behemoth band guys had been hitting North America for two weeks with Myrkur in late April before they rocked some of the biggest European festivals during summer, including Brutal Assault and the Gefle Metal Festival.
Read more

Latest album information

Released in February 2014, "The Satanist" marked the Behemoth's 10th studio album and a follow-up to 2009's "Evangelion." In 2010, frontman Adam "Nergal" Darski was diagnosed with leukemia, and this record is his triumphant return to the world of music. Dark, enigmatic, thunderous, exciting, yet true to the band's tradition and heritage, it was universally hailed as a masterpiece and one of the finest metal efforts of the decade. Every aspect of artistic expression from music to artwork to videos accompanying the effort are a part of a grand story that climaxes with the album's final song "O Father O Satan O Sun!" This is a story that goes beyond extreme metal, this is a piece of Darski's very being. On the technical side, the album features a set of nine songs clocking in at just under 45 minutes. It was released via Nuclear Blast Records with several individuals at the helm of production - the band themselves, Daniel Bergstrand, Wojciech Wieslawski, and Slawomir Wieslawski. The effort was recorded between February and June of 2013 at two studios in Poland - Hertz Studio in Bialystok and RG Studio in Gdansk.

Bands members and the origin

Behemoth is the brainchild of frontman, vocalist, guitarist and songwriter Adam "Nergal" Darski, who is the only original member of the band's current lineup and the only musician who was in Behemoth throughout its existence since 1991. If we count musicians who were hired for live concerts only, the group has a list of over 10 former members, but the core of the act has been operating as a three-piece since 2003 featuring Nergal, Zbigniew "Inferno" Prominski on drums and on Tomasz "Orion" Wroblewski on bass and backing vocals.

Additionally, Patryk "Seth" Sztyber has been the band's session and live member since 2004, taking up the position of a second guitarist and backing singer. As noted, the group was founded in 1991, producing music as a three-piece and focusing on traditional black metal style with what was described as "heathen" lyrical content. They soon shifted to mystic and occult themes, while infusing their sound with elements of death metal to ultimately forge their blackened death metal brand of extreme music. The band's goal was always expanding the horizons of listeners with taboo topics and delving into domains of the occult and satanic.

Typical performance and style

In addition to the aforementioned blackened death metal musical style, Behemoth is known for quality musicianship and controversial black metal image. Their live concerts heavily rely not just on quality sonic delivery, but on unifying the elements of music with visual parts.

Members of the band always grace the stage with corpse paint and full-blown metal attire, and their performance is accompanied by a light show and a variety of visual effects. Over the years, the band was branded with a variety of musical labels, although Nergal was the first one to discard those. And while "blackened death metal" is a concise way of summing Behemoth up, their music, in fact, features a set of elements taken from traditional black metal, death metal, technical death metal, melodic death metal, and even moments of thrash metal.

Behemoth's quick discography

Behemoth have a string of 10 studio albums under their belt, with the latest one being 2014's "The Satanist." Their first record saw its release in 1995 under the title of "Sventevith (Storming Near the Baltic)" and secured the band the position of a torchbearer of Polish fresh underground metal scene. Keeping the black metal spirit as the focal musical point, the band released "Grom" in 1996 and "Pandemonic Incantations" in 1998. With 1999's "Satanica," elements of death metal have reached the group's sonic palette and continued to thrive to this very day. 2004's "Demigod" saw the band making bigger waves in wider circles of the metal community while 2009's "Evangelion" scored them their first No. 1 chart debut in their native Poland. Behemoth are among few bands who started their musical journey 25 years ago to have their latest album hailed as their finest effort to date, which is exactly what is happening with "The Satanist."
| Date | City&Country | Venue | Tickets | |
| --- | --- | --- | --- | --- |
| 21 April 2016 Thursday | Philadelphia, PA, US | Theater of Living Arts | Passed | |
| 23 April 2016 Saturday | New York, US | Webster Hall | Passed | |
| 24 April 2016 Sunday | Boston, MA, US | Royale | Passed | |
| 25 April 2016 Monday | Montreal, CA | Virgin Mobile Corona Theatre | Passed | |
| 26 April 2016 Tuesday | Toronto, CA | Phoenix Concert Theatre | Passed | |
| 27 April 2016 Wednesday | Detroit, MI, US | St. Andrew's Hall | Passed | |
| 29 April 2016 Friday | Chicago, IL, US | Thalia Hall | Passed | |
| 30 April 2016 Saturday | Minneapolis, MN, US | Mill City Nights | Passed | |
| 01 May 2016 Sunday | Lawrence, US | Granada Theatre | Passed | |
| 03 May 2016 Tuesday | Englewood, CO, US | Gothic Theatre | Passed | |
| 04 May 2016 Wednesday | Salt Lake City, UT, US | The Complex | Passed | |
| 06 May 2016 Friday | San Francisco, CA, US | The Regency Ballroom | Passed | |
| 07 May 2016 Saturday | Santa Ana, CA, US | The Observatory | Passed | |
| 12 June 2016 Sunday | Nickelsdorf, AT | Novarock | Passed | |
| 23 June 2016 Thursday | Halden, NO | Tons of Rock | Passed | |
| 01 July 2016 Friday | Helsinki, FI | Tuska Festival | Passed | |
| 02 July 2016 Saturday | Lobnitz, DE | Flugplatz Roitzschjora | Passed | |
| 08 July 2016 Friday | Geiselwind, DE | Eventzentrum | Passed | |
| 11 July 2016 Monday | Dunaujvaros, HU | Rockmaraton | Passed | |
| 15 July 2016 Friday | Gavle, SE | Gefle Metal Festival | Passed | |
| 12 August 2016 Friday | Derbyshire, GB | Walton on Trent | Passed | |
| 13 August 2016 Saturday | Jaromer, CZ | Brutal Assault | Passed | |
Behemoth in action
Watch the official Behemoth video cut to stay tuned.
The best moments and pics with the fans!